Welcome to Conundrum Labs
When you play our escape rooms, you'll use interdimensional travel to help people in other worlds to solve their conundrums. You'll enter a rift in space and time to explore, find clues, and solve puzzles. But each rift is only open for one hour, so you'll need to be fast in order to return back to Earth.
Save 10% off your booking with the promo code BOOKNOW
Book Your Adventure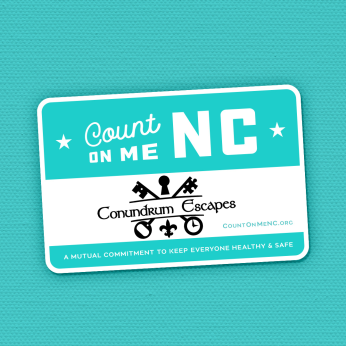 Our Commitment to Your Health
We are a participating business in the Count On Me NC program and are taking measures to protect the health of our players and staff. These include:
All bookings are private, which means that you only play with your friends and family members. No strangers will join your game.

The lobby and escape rooms are cleaned and disinfected after each group.

Our games are scheduled to minimize the number of people in the lobby at the same time.

Our staff take their temperature each day and will stay home if they have symptoms of illness.

Our staff wear masks when interacting with players.

Our staff wash their hands before and after each game. We also encourage players to wash their hands or use hand sanitizer before and after their game.

We have adjusted our games to minimize the number of soft items that cannot be easily cleaned.
Players are not required to wear masks, but we encourage you to reschedule if someone in your group is showing any symptoms of illness. Please contact us if you have questions about our procedures at [email protected].
Our Games
Airship Legacy
This adventure takes teams to a Steampunk world where a young girl named Molly needs help proving that she is the rightful heir to her Uncle's fortune. In this world of gears and gadgets, top hats and teapots, airships and steam, you must find the blueprints of a famous airship in her Uncle's study. If your team can't do this, the evil Duke of Cheshire will claim the fortune for his own. Assemble your team, gather your wits, and prepare for an incredible interactive adventure! Will Molly become the rightful heir? Or will the evil Duke win the fortune and leave Molly destitute and alone? That's up to you!
Mission Critical
Stop the Self Destruct to save this ship and the people of Zion! The USS Falcon, a galactic transport, has been attacked. Blindsided as they were by this attack they stood no chance of winning. Rather than let themselves and the ship's cargo be taken by the enemy they sabotaged systems and abandoned ship after setting the self destruct countdown. Enter your team. You pushed back the enemy but now you must fix the systems and deactivate the self destruct before the Falcon and all its cargo is lost.
Conjurer's Dungeon
An evil queen rules the land of Iconia, and the people are poor, afraid, and miserable! In a dank, dark, lonely dungeon where many an unlucky peasant has wasted away, the queen imprisoned a powerful magician for crimes he did not commit! Using his magical skills and cunning, he escaped to a far away land, never to return, but left behind a magical object in his cell. This object can free the people from her tyranny forever. Find this object to defeat the evil queen and save the land!