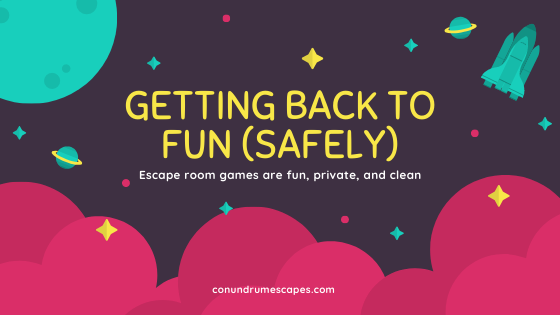 With North Carolina in Phase 3, you're excited to get out of the house and have fun, but you're wondering, where can you enjoy good times with your family and friends without risking your health?
Escape room games are one of the safest entertainment options you can enjoy right now, especially when you play at Conundrum Escapes. Here's why: our games are fun, private, and clean.
Fun
Our escape room game will transport you to an immersive adventure where you'll need to work together to explore, find clues, and solve tricky conundrums! With your team of 2-8 players, you'll use a wide range of skills, including communication and creativity. Our games are designed for adults and teens aged 13+. You'll enjoy an escape from reality as you search for the blueprints of a steampunk airship, save a spaceship from destruction, or defeat an evil witch.
Private
There's no need to social distance because our games are scheduled so that you and your group will be alone in the lobby, with no other players coming in or out. A masked staff member will brief you and then escort you into your private game. You'll only play with your friends and family, so you do not have to wear a mask inside the game.
Clean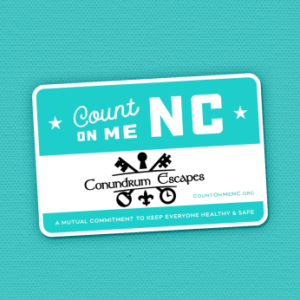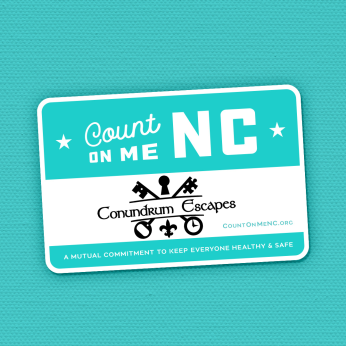 We have completed the Count On Me NC COVID-19 training program to learn the best techniques to keep you safe. Our lobby and games are fully sanitized and disinfected before and after each group. Soap and water and hand sanitizer are available to you in the lobby and bathroom. Furthermore, our staff take their temperatures before coming to work and stays home if they have any symptoms of illness.
Coronavirus primarily spreads through person-to-person contact, so our game experience limits your contact with people outside of your group. Our cleaning protocols also reduce the potential of spread through surfaces. So compared to other forms of indoor entertainment opening in Phase 3, escape room games present a greatly reduced risk.
Book your fun, private, and clean adventure today at Conundrum Escapes!
Still have questions? Contact us at [email protected].