When you play our escape rooms, you'll use interdimensional travel to help people in other worlds to solve their conundrums. With your team of 2-8 players, you'll enter an immersive game room to explore, find clues, and solve puzzles. Teamwork and creativity are required! Sign up for our email list to get our promo codes and discounts. We send out emails weekly and promo codes about once per month.
Book Now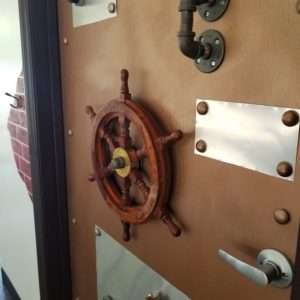 Airship Legacy
In a steampunk world, you must find the blueprints of a famous airship to prove that young Molly is the rightful heir to her Uncle's fortune.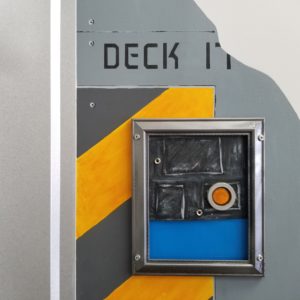 Mission Critical
The evil emperor Zurg has attacked the galactic transport the USS Falcon. Only you can save the ship from destruction!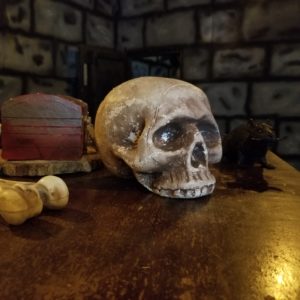 Conjurer's Dungeon
Enter the dungeon to save the land of Iconia from the curse of the evil witch.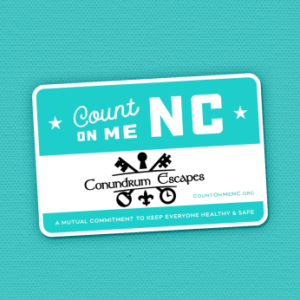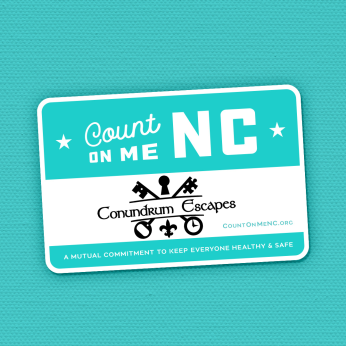 Our Commitment to Your Health
We are a participating business in the Count On Me NC program and are taking measures to protect the health of our players and staff. These include:
All bookings are private, which means that you only play with your friends and family members. No strangers will join your game.

The lobby and escape rooms are cleaned and disinfected after each group.

Our games are scheduled to minimize the number of people in the lobby at the same time.

Our staff take their temperature each day and will stay home if they have symptoms of illness.

Our staff wear masks when interacting with players.

Our staff wash their hands before and after each game. We also encourage players to wash their hands or use hand sanitizer before and after their game.

We have adjusted our games to minimize the number of soft items that cannot be easily cleaned.
Players are not required to wear masks, but we encourage you to reschedule if someone in your group is showing any symptoms of illness. Please contact us if you have questions about our procedures at [email protected].